For the past few decades, some of the brightest and best of young Chinese left the country to seek educational and entrepreneurial opportunities overseas. Often, they went to the most prestigious universities in United States, Europe and Canada. Then, they took top-tier jobs at multi-national companies and research institutes.
But now they're coming home
Because there is more money in China. Growth rates are breathtaking. And new businesses find opportunities and capital more easily.
With its 8 percent annual growth rate, the Chinese economy has become the world's second largest after the United States. After the financial crisis in 2008, while other major world economies were plagued by the dragging recession, China's economy remained robust, hence spurring the tide of of some Chinese migrants returning.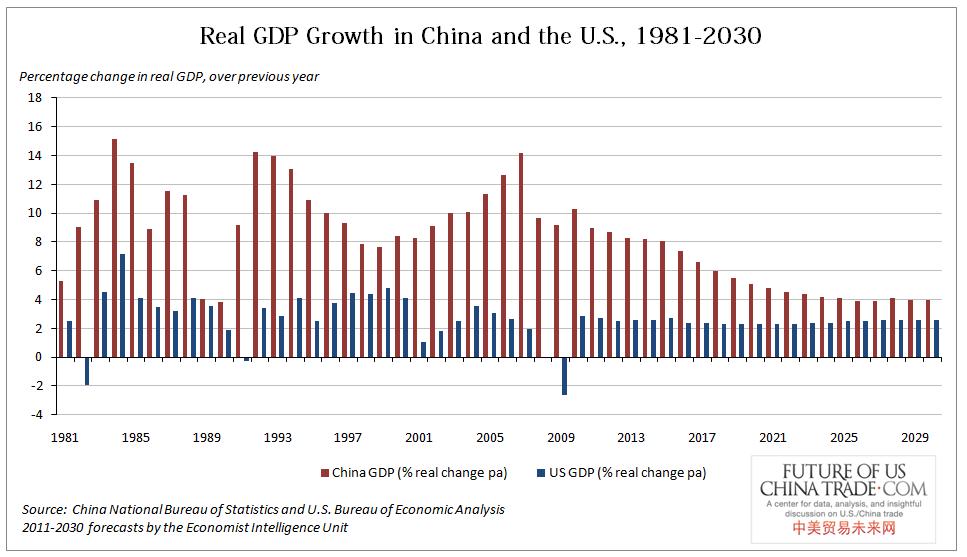 The beginning of the twenty-first century witnessed soaring numbers of overseas Chinese migrating back home. According to statistics from the China's Ministry of Education, in 2012 alone, more than 272,900 overseas students came back, up by almost 50 percent from the year prior.
Returning students have increased by an average of 36% per year over the past 5 years, pushing the total number of the five-year period to more than 800,000. That dwarfed the entirety of all returnees back to China for the 30-year period from 1978 to 2008.
The returning trend shows no sign of mitigating, as a poll conducted in this January by a research team from Nankai University shows. The polls indicated that less than 10% (the lowest number in the past decade) of the nearly 2,000 undergraduate students surveyed had plans to immigrate to other nations after they finish their study abroad.
Another survey conducted by the Chinese international education service provider EIC in 2013 echoed the similar shift. It said 22 percent of returned overseas Chinese students thought they would have better prospects finding a good job in their "home country".
"China's high-speed economic growth in past years has motivated overseas students to come back and to look for job opportunities," Liu Yuan, general manager of EIC's Shanghai branch told People's Daily. "At the same time, it demonstrates the difficulty overseas Chinese students have in finding jobs in other countries."
About half of the former overseas Chinese students polled cited the uncertain economic situation as the biggest obstacle to finding employment overseas.
The tremendous rise in returning students since 2008 coincides with the government rolling out a wide-ranging series of initiatives and incentives aimed at appealing to highly educated citizens. Those benefits include better opportunity for career development, favorable tax rates, housing, more research project opportunities, and government awards.
The growth in Chinese students pursuing studies in the US has been exponential during the past decade: China sent 60,000 students to the US in 2000, almost all graduate students sponsored by the government; in 2012, 194,000 Chinese students went to the US, with most of the growth from self-funded undergraduate students.
Overall, China started to lead all nations in sending students to US universities since 2008. Today, it sends five times more students (158,000 last year) to US institutions than the second-largest source India, according to US State Department statistics. The Chinese government thus showed more eagerness to lure those talents back to help spur its economy.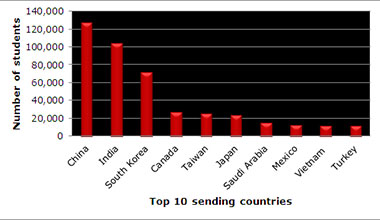 In 2010, the issue of "trade deficit of talent" was taken over by the Coordination Group on Specialists of the Communist Party of China. The goal of this group is to coordinate the myriad efforts in place to bring back talent to China.
For more than two decades now, China has had programs to encourage talent to move back to the country. Between 1990 and 2010, the Ministry of Education spent close to $98 million in seed funding for about 20,000 returnees.
A program by the Chinese Academy of Science, launched in 1994, offers as much as $328,500 for research to returnees. In almost 20 years, almost 1,600 professionals have taken advantage of the plan.
In 2008, China launched the Thousand Talents plan, through which the government tries to convince overseas Chinese to return. The plan offers top scientists and entrepreneurs as much as $150,000 in cash, office and laboratory space, housing allowances and school entry for children. The aim of the program was to attract 2,000 academics and entrepreneurs during the course of a decade. More than 3,300 came back.
Another program, the Medium- and Long-Term Talent Development Plan (2010-2020) aims to attract another 2,000 specialists in IT, biotechnology, aerospace, environmental protection, agricultural technology and transportation.
Wei Wang, who is now working at Hubei Institute for Food and Drug Control, took part in the Thousand Talents plan back in 2008 immediately after graduating from Michigan State University.
"It was indeed a hard time for me to choose back then. I originally planned to work in a US medicine company for at least a couple of years after graduation. But the US economy at that time was not in a good shape. And by comparison the domestic talent policy in my home country was just way too appealing. Thus I changed my mind," said Wang.
But it is hard to tell how effective these programs truly are at bringing back top talent. There have been criticisms of poor management, particularly in city level programs. At times, "returnees" who have taken advantage of programs were already back in China but were enrolled to shore up the numbers. At other times, the people offered spots in these programs did not necessarily fit the bill.
Quality can be an issue. The lower end of the talent spectrum tends to swell the ranks of the returnees. Weak students, often supported by their parents after they return to China, return in droves. The best and the brightest are often hired in the US and Europe; luring these candidates back is expensive.
In a 2008 survey, Duke University in the US found that half of 637 returnees polled had five years or less of experience in the US. They were hardly top executives.
As more and more overseas students are returning back to China, there is a major difference from previous generations who have made the same choice to go back. The previous trend was to come back to China to work at universities or research institutes. Nowadays, returnees are joining businesses or starting up their own enterprises off the ground. They might have been working abroad for several years and have seen the limitations of the foreign markets; they feel they can apply their own talent and experience to tap the greatest potential of the vast Chinese market.
Wang Mengqiu, 37, was born in Sichuan province and went to the US a decade ago to obtain a master's degree in computer's science at UCLA.
Until 2012, she worked at a Silicon Valley startup producing network routers. Once the bubble burst, she and her husband — a fellow "sea turtle" who used to work at IBM — picked up and flew back to China where they consider opportunities are more promising.
Now, Wang is now the Vice-President of Engineering at Baidu, Chinese version of Google, while her husband is embarking on a startup to create a Chinese equivalent of Pinterest.
"I don't think I would get the same opportunities in US, frankly," Wang told Global Post. "Just last month, I went back to Silicon Valley to visit some friends. What I found out is they are doing the same things they were doing ten years ago. Nothing has changed. They are smart people, but they cannot get enough opportunities in the US."
Reference:
How China's "Sea Turtles" Will Crush US Economy.
More Chinese Students Return to Find Work After Studying Abroad.
China's Return Migration And Its Impact On Home Development.
Why Are Overseas Chinese Students Not Returning To China.
More Chinese Students Want A US Education, But Fewer Stay For A Job.
Chinese Immigration And The Chinese In United States.
Number Of Returning Chinese Students Up 38%.
Returning To Mexico: Why Mexican Immigrants Are Leaving The US.
Chinese Students Studying Abroad Bringing Change To China…But What Kind?
History Of Chinese Immigration To US.
Why The Chinese Are Flocking To US Colleges?
More Students Back From Abroad.
3000 RMB? Returning Overseas Chinese Students Coming Back to Paltry Salaries.