Thirty miles south of the city proper lies the heart of L.A.'s economy: the Port of Los Angeles. In the words of the Port's economist Michael Keenan, "logistics is the Silicon Valley of Los Angeles," and the well-oiled machine of the San Pedro harbor proves that statement. While our tour out on the water was relatively quiet, my drive there and back provided me a firsthand look at the worker ants of this Los Angeles behemoth: the port truck drivers. Looking into their role specifically, I came across a recent article in the Los Angeles Times focused on a recent battle the truck drivers have faced as Los Angeles and other ports across the nation classify the truckers not as higher-paid employees, but independent contractors. Freed of the responsibility of guaranteeing higher wages and working conditions, ports are reaping the benefits while the truckers suffer.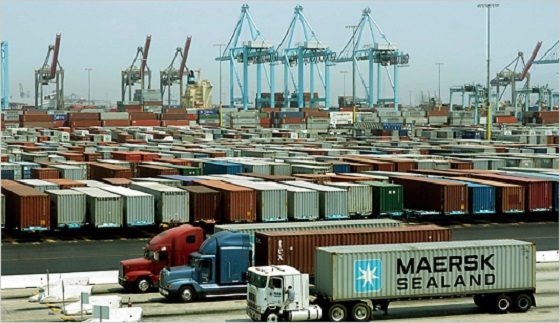 Out of a total 75,000 truckers who serve the ports of the United States, 15,000 of those work in the Los Angeles/Long Beach port area. They handle more than a "trillion dollars of cargo annually." A common trucker works a six-day week, up to 14 hours a day, and takes home about $200. According to the report in the Los Angeles Time, "the median earnings of an independent contractor is…$29,000 a year, compared with $35,000 for a trucking company employee." Even though trucking companies control their business, where and when they work, and what their fees are, most drivers are still considered independent contractors in company eyes, and have to pay for gas and repairs on the company-owned trucks, reducing their earnings further.
Throughout this, trucking companies desperately work to find more drivers, claiming a shortage of workers. Here's a graph from the American Trucking Associations:

However, drivers respond, if such a shortage actually exists, why are their real wages still kept so low? Wages for the trucking industry grew 2% less than the entire private work force. Either the trucking companies are drastically overstating their need for drivers as an excuse to avoid more risk in this post-recession world, or the number of truckers is truly declining due to other reasons. Amongst those reasons may be the large number of truckers approaching retirement age and others, like the frustrated parties in Los Angeles, leaving the field for greener and less uncertain pastures.
Trucking, once "one of the backbones of the blue-collar middle class," according to Jared Bernstein of the Center on Budget and Policy Priorities, has turned into "sweatshops on wheels." So far in L.A., "400 complaints" have been filed to the state agency, and a few have already gained rulings confirming their misclassification as independent contractors. Due to these early successes, the number of potential lawsuits may grow, and the thriving port of L.A. is going to have a problem on their hands.
Other source:
http://www.overdriveonline.com/driver-shortage-countdown-to-a-capacity-crunch-and-a-boost-in-rates/