Last week Ito received a random email request for a custom chandelier earring design from a sales consultant from Georgia. The costumer sent Ito a 2D picture of a chandelier and hoped Ito would print it out trough 3D printing.
Jeffery Ito, 23, graduated in Dec. 2013 from University of Southern California with a B.S. in Industrial and Systems Engineering. With his savings of around $8,000, he started up a 3D Printed Jewelry company–Mocci–in Jan. 2014. He was brought up in a military family, however, he loves beautiful designs and edgy technology.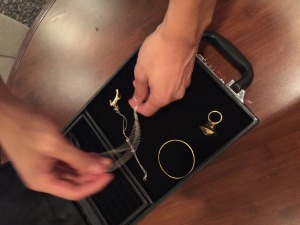 Two years ago, Ito went to the Convention Center Westec, seeing 3D printers everywhere there and printing out little plastic toys. "It was really cool because every printer was making goods, and it was not like everything I've seen," Ito says.
That was the point where Ito knew 3D printing was something that he wanted to work with. "Jewelry actually spoke out to me, because it's a big industry, and it definitely needs good designs to be successful," he says.
Now engineers and designers use programs like Blender and Rhino to create 3D modeling, then they transfer the file to another program called Netfad where they check the whole design. Once that is finished, they send that file to the 3D printer and print. "The beauty of 3D printing is that you can create anything you can imagine, allowing for customization, any kind," Ito says.
He wants to make that process easier, even accessible to customers — he is creating an app.  The app will offer an user friendly interface where people can design personalized jewelry and buy from right there, according to Ito. "The first prototype is gonna be just letters you want to type around the ring, something very simple," he envisioned.
There are barely predecessors.
"Everything was either low quality or like engineers creating jewelry that was not visually appealing," says Ito, adding, "There wasn't anything that really spread out in the 3D jewelry printing industry."
Christy Designs, located in the Jewelry District , is a typical 3D jewelry printing firm only providing printing services without offering design services, and it merely prints wax and plastic pieces. "We are super busy everyday, printing jewelry 24/7," says the owner of Christy Designs.
According to the owner, the seven-staff firm founded in 2001 is the first 3D printing firm in Downtown L.A., receiving more than 500 customers every month. The narrow, simple and crude firm sits 15 3D printers, and each one of them worth more than $100,000.   
"3D printing is faster, you can print 100 pieces with the machine while you can only make one piece by hand spending the same amount of time," he says.
Ito wants something more than just efficiency.
With his one-man team, he firstly designed six gold plated brass pendant necklaces by himself and printed them via Shapeways, where customers can upload 3D files and Shapeways prints the objects.
Ito can use Shapeways in the future, but the two-week lead time is concerning. He also found designing was definitely not his specialty. So he have hired a designer from Armenia. To complete the supply chain, he will use a wax printing to print wax mold and casting service in Downtown L.A. to outsource his manufacturing.
He followed a suggestion given from an entrepreneur event called Entrepreneur Revolution to increase the selling prices of the six brass jewelry pieces — in the $200-$500 range. His selling prices are between $179 to $399.
But later on, he keeps receiving feedbacks from customers that the prices are too high. He wanted to adjust his service to an end-to-end one which automates most of the process to free up unnecessary hires thus cutting costs, by programming an app that asks a question on what kind of jewelry customers want to design and sends him an email and then work from there.
He launched the Kickstarter project on Oct. 6th to acquire funds. Although it hasn't been successful, a side effect of it is that he is receiving far more traffic on his website, increasing from 20 views a day to over 100 views a day. So he now has got some revenue from advertising. He will also turn to Angel Investor for further funding. 
Zazzle, Etsy, Shapeways, and Jeweldistrict are all entrepreneurs in the the 3D printed jewelry space that he has to compete with. He will stand out by being an authority in the space —teaching others via his website, Ito says.
The big players in the fine jewelry industry, such as Tiffany's and Cartier whose focus is on "luxury", provide superbly designed jewelry that can be bought from stores, which most people have been accustomed to for years.
"They (the products by big players) are in the thousands, tens of thousands, millions of dollars, but not everyone can afford expensive jewelry," Ito says. According to him, his lower prices will lead to customization lending to a wider market.
But there is one group of customers that is hard for Ito to satisfy–fans of clean and natural gems. Now it is possible for expensive industrial 3D printers to print metal alloys or a cost-efficient method for 3D printed metals is with a wax mold. But synthetic gems are beyond todays' 3D printing technology. Even if synthetic gems will be available to be printed out in the future, they won't be the first choice for natural diamonds lovers.
"Customization is something that people would love," he says. "The demand of customization exists, however this is something I feel consumers don't know they need until they have it, especially for jewelry in the $100-$1000 space," Ito added.
Ten months has elapsed since he started the business. He hasn't put up anything for sale. His savings are running out and his funds are not finalized, but his aspiration of making a difference in the jewelry industry is growing with each passing day.
"My business will reshape the way people purchase jewelry by making it easier to personalize, visualize and purchase jewelry without going to a store," he says confidently, adding, "It will blur the lines between fine jewelry and fashion jewelry."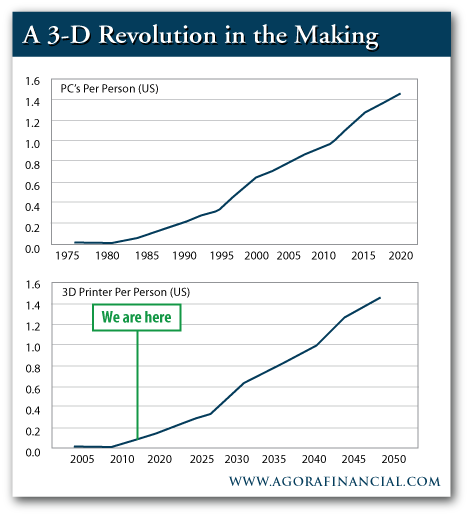 The 3D printing business is still in the early adopter stage, where the PC business was in the early 90's. Most people had not heard of 3D printing until the introduction of consumer level 3D printers in recent years.  "When people talk about 3D printing, they still think of it as a crazy nerdy thing," says Ito.
He envisions the future of manufacturing created by 3D printing: people everywhere are able to create anything they want, so the designers become the manufacturers and they are also able to reach out to anybody in the world and sell to anybody.
Once that comes true, not only the sales consultant from Georgia can receive his earring at home, people around the world can get their personalized everything without stepping out of houses.
"3D printing is the technology of the future."