The sun is beaming brightly as a few clouds lay scattered throughout the brilliant blue sky. Even as California enters the autumn season it's a beautiful day that can certainly boast weather conditions that would cause our friends residing on the east coast to become envious of during this time of the year. Faring at around 80 degrees it's the perfect weather to be enjoying the outdoors. It's California dreaming at its finest.
However, even with suitable weather conditions, one small business owner remains frustrated as he struggles to bring in customers to his carwash despite his best efforts. One would think that if the forecast predicated sunny days ahead and an individual had a dirty car that he would probably head to the carwash this week to get it cleaned. The logic behind that thought seems simple enough, and that would have been the likely scenario a few years ago. However, unfortunately, that is not the case anymore, and Chol Shinn of Los Altos Carwash in Long Beach has experienced this downward shift firsthand.
It has been less than eight years since the economic crisis ended in 2009 that economists have deemed "The Great Recession"; and it would appear that our economy is finally humming along the road to recovery. It's no surprise that the recession hit Americans hard as our national unemployment rate skyrocketed to an unsettling 10 percent in 2009 according to the United States Department of Labor. Yet, for small business owners, such as Shinn, they have upheld determination to hold onto their business and the hope that the economy will turn around soon.
As a means for both small and large business owners to sustain the operation of their companies during the recession and these few years following the economic crunch, they have had to adjust and make changes to the way in which they manage their establishments.
Shinn has shared that he also had to make some significant changes to the way in which he operates his carwash. The first major change that happened to Los Altos Carwash would be the large but gradual cut in the size of its staff. Shinn revealed that when he first purchased the business in 2007 during the wake of the recession that he carried over the same staff that had been employed with the previous owner. However, as the economy weakened he was forced to cut his staff's work hours, which eventually lead to many individuals quitting. Currently, Los Altos has a total of seven employees, which is a huge difference when compared to its 2007 staff numbers of roughly around 25 employees.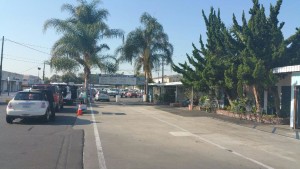 Furthermore, Los Altos Carwash has also had to cut local advertising costs and provide special offers and coupons as a way to generate more customers. Shinn has being working vigorously with nearby shops and the California State University of Long Beach to craft special discounts for residents.
There have been both secular and cyclical shifts that have affected Shinn's business. A particular shift that Shinn has observed in the carwash industry is the transformation of hand carwashes becoming express washes as means of cutting labor costs. The monetary benefits of running an express carwash is great and would be appealing for that matter solely. However, Shinn rationalized that express washes, which are simply the machine operated ones that customers would experience at a gas station, do not perform the same job as a hand carwash would and would not achieve the same sense of "clean". Express washes are quicker and cheaper, but are not nearly as efficient as a hand wash. Therefore, this transition could be seen as a secular shift that has caused a loss of revenue and customers to hand carwash owners that refuse to give into the change.
In addition, other factors, such as gas prices and minimum wage, have affected Los Altos Carwash. Shinn has shared that the rising cost of gas prices have caused many people to drive less. Therefore, if an individual does not drive his or her car then there would be no need to have it cleaned.
"I don't understand how customers expect me to keep to same prices and make a living when the cost to operate my business is on the rise," explained Shinn. The rise in minimum wage has impacted Shinn's business because he has had to raise his prices slightly to meet the new cost of minimum wage and still make some profit. By raising the price of his carwash packages to even a dollar more, Shinn has received numerous complaints from his customers.
Certainly, factors such as interest rates have also played a role on the challenges that Shinn has faced. For example, during the recession interest rates were at a historic low. However, it was difficult for individuals to qualify for these loans. If citizens were unable to qualify for a loan then he or she would be incapable of making large purchases such as a new vehicle. Shinn has noted that individuals with new cars seem the most concerned with the cleanliness of the vehicle and would come in more frequently.
Shinn has also disclosed that he believes that the carwash industry in itself is in a downward spiral. Prior to purchasing the business, Shinn revealed that he was under the impression that getting a carwash was a typical necessity that one would do often. However, he has come to the realization that getting a carwash is a luxury and if an individual does not have a disposable income then getting their car wash will not be on the top of his list of priorities. While many of the car washes in the surrounding area have gone under, Shinn explains that he believes he has been able to survive due to the fact that he and his wife purchased the property that the business is on and that has made all the difference.