One of the world's favourite treat- chocolate, could face a critical shortage in the next 20 years; two leading chocolate makers Mars, Inc. and Barry Callebaut say.
Switzerland-based Barry Callebaut, which describes itself as the world's leading manufacturer of high-quality chocolate and cocoa products, said it had concerns about future cocoa supply in its annual report published earlier this month. Barry Callebaut was repeating the concerns of Mars in the US, which has been warning for some years that cocoa production could be 1 million tonnes short of demand by 2020.
Simply put from the manufacture perspective, it seems like people are eating too much chocolate therefore leads to this not-so-sweet deficit in the future.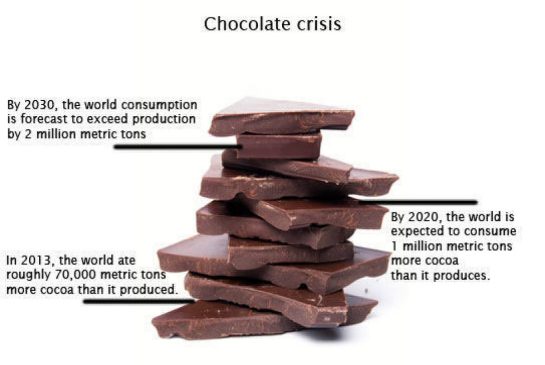 Image Source: thestar.com
Nevertheless, people's exceeding consumption power is not the only reason for the deficit.
On the other side of the supply-demand chain, the market supply of chocolate has already been affected by the lower cocoa productivity worldwide in recent years.
Cocoa is the main ingredient in chocolate, without it there is no tasty chocolate. Last year, the world ate roughly 70,000 metric tons more cocoa than it produced. Bloomberg reports that from 1993 to 2007, the price of cocoa averaged about $1,400 a ton; the past six years had an average of little more than $2,700 – an 87 percent increase. According to Bloomberg, the lack of supply is reportedly due to drought, disease, higher demand of more-productive crops like corn, and last but not least, the rising popularity of dark chocolate – which calls for more cocoa.
Source: Groupe Sucres et Denrées (SUCDEN)