Sephora, one of the most famous cosmetics shops in the world, just finished its semiannual sale on November 10. The 20% off event was for VIBs and VIB ROGUEs, who have, respectively, spent more than $350 or $1,000 in the past year. However, many qualified accounts with Asian surnames were blocked during the sale this year. Sephora released an official announcement on its Facebook page on Nov. 7, stating that they were deactivating accounts to stop reselling. But the company is facing possible charges not because their attempt to regulate its market. Many accounts with Asian surnames were deactivated, though the owners claimed that they'd never resold any items. Some of them even said that they didn't buy anything on Sephora.com during the sale this year, yet their accounts were still locked. Now there's an outrage on Sephora's Facebook page.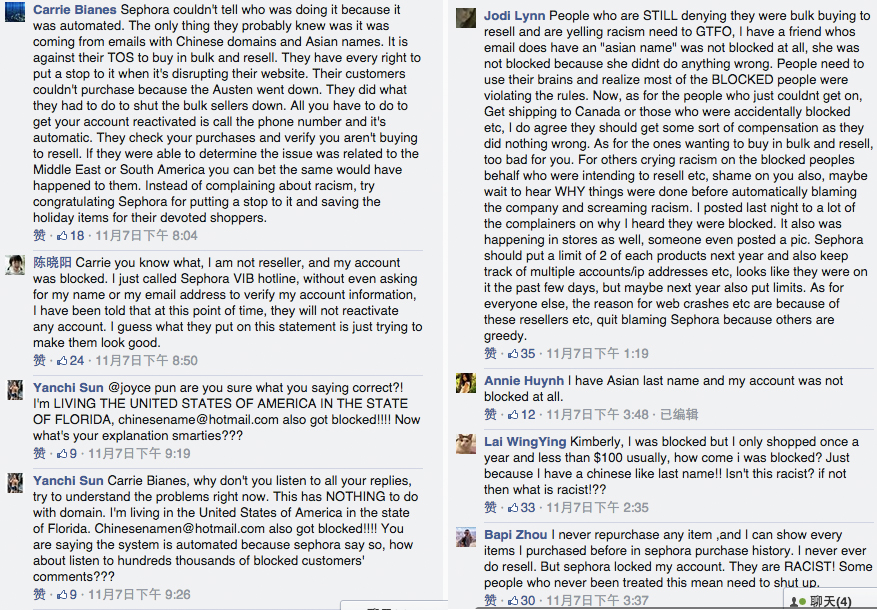 Many Asian consumers are now complaining on Sephora's Facebook page about their accounts' being deactivated for no reason.
It seems that the reselling phenomenon is the key issue here. However, Sephora actually has its stores in China. Why do Chinese purchase oversea? This article will look into the reasons why people resell Sephora products to China.
As mentioned, Sephora has its stores in China, but people still buy from Sephora.com. There're mainly 2 reasons: Some brands that are exclusive in the U.S., and more importantly, it's much cheaper to buy directly from the website. For instance, the price for the Rose Mask produced by Fresh is $58 on Sephora.com. Chinese Sephora stores don't carry the brand. If consumers turn to Fresh stores – which now only exist in Beijing and Shanghai – to make a purchase, it will cost them¥500, which is about $82 – the price is 41.4% higher than it is in America. This is because Chinese government places high customs tax on import goods.
Besides, it is said that the quality of skincare products sold in manufacture countries is much better than those sold elsewhere, which is considered an open secret in the cosmetic industry – and Sephora sells a lot domestic products. Last but not least, Chinese Sephora also doesn't do well in marketing itself, so few people actually go to stores and make a purchase – these are all the reasons why Chinese consumers turned to Sephora in America.
However, high customs tax, low product quality and diversity, and poor image of Chinese Sephora are not the only reasons why resellers exist. One of those whose accounts were banned decided to file a class action against Sephora for discrimination against Asians. He made an announcement on Weibo, encouraging people whose accounts had been unfairly deactivated to leave their contact information to the lawyer in charge. Interestingly, he mentioned that he had asked certain promotion account to help him tweet the message, but he was refused because there's interest conflict between helping him and the account's relationship with Sephora.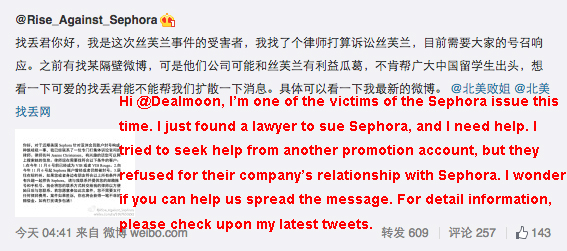 The Weibo announcement made by a Chinese consumer whose account was deactivated for no reason. He's now working with a lawyer to file against Sephora for discrimination against Asians, especially Chinese.
It's interesting because, many promotion accounts on Weibo constantly tweet about sales going on on Sephora.com. However, Sephora.com explicitly points out on its website that international shipping only includes Germany, Japan, Netherlands, Norway, South Korea, and the United Kingdom. So it doesn't ship to China, yet it's advertising on Chinese promotion accounts, where most of Chinese consumers get the latest promotion information.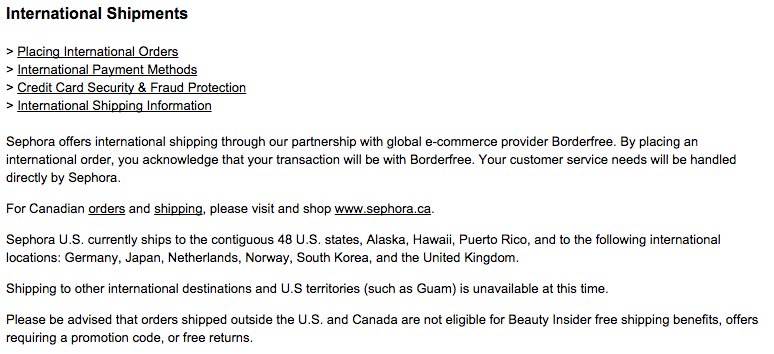 Shipping policy on Sephora.com.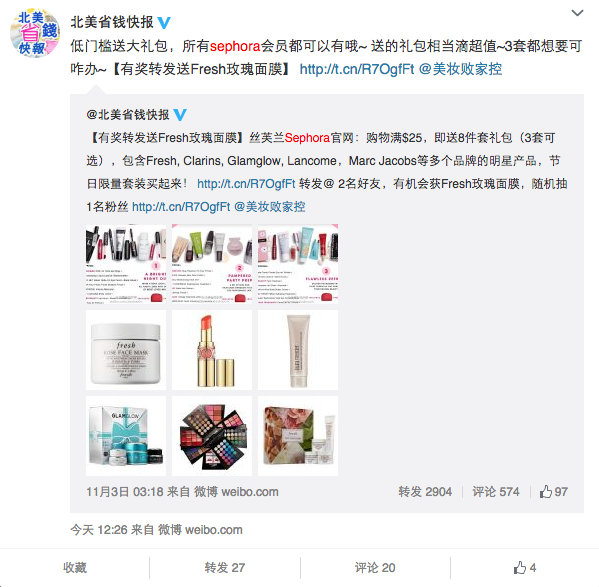 One of the Weibo accounts which had tweeted about promotions on Sephora.com. According to Rise_Against_Sephora, it is this account which has refused his request for help with the class action.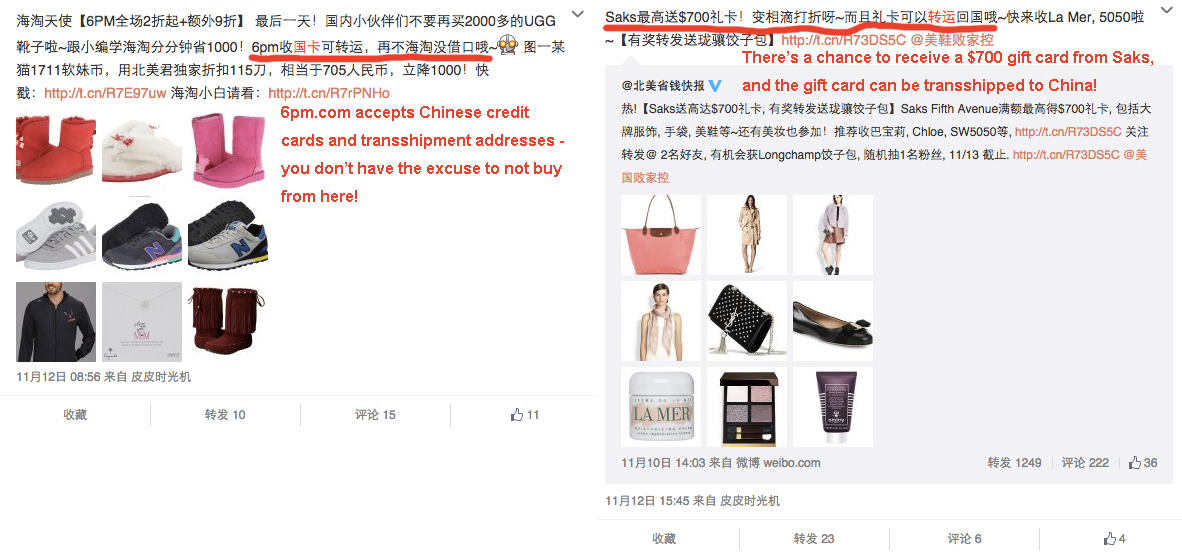 The same promotion account had publicized information about how Chinese can buy from foreign websites such as 6PM and Saks, which shows that its target audience includes those who are living in China, though its account description is "looking for deals for Chinese who are living in North America."
Now that Chinese consumers have seen the promotion information, they want to make a purchase. Since Sephora doesn't ship to China, consumers use transshipment companies to deliver their products. Here's how it works. They buy things on Sephora.com. The address they leave on the website belongs to a transshipment company. The company will receive the orders, and will send them to the buyers. Everything looks perfect, until Sephora began to ban transshipment addresses. From more than a year ago, consumers started to complain that their orders had been declined due to detected transshipment addresses.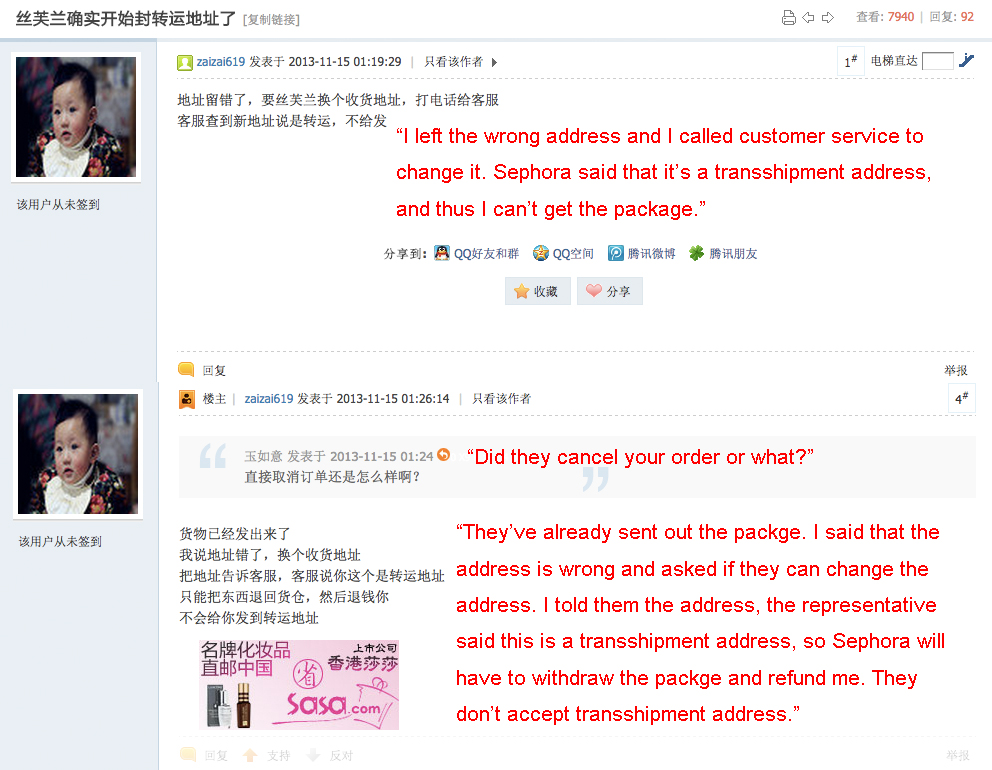 A consumer was complaining about the fact that Sephora doesn't allow people to use transshipment companies to purchase.
 Since consumers can no longer make a purchase on their own, they start to look for individuals to help them place an order. This is the most major reason why there're resellers targeting at Sephora. Some people said that resellers might hoard hundreds of the same products while they're on sale, which is not fair to other consumers. However, on one hand, there's a limit on the number of the same products that one can purchase online, so it should be hard for one to hoard. But on the other hand, though Sephora has made a limitation online, it doesn't limit the quantities that one can purchase in stores, except for some limited-edition gift sets.
All in all, Sephora has banned all possible means by which Chinese consumers can make a purchase on their own; but at the mean time, it's advertising in China. Sephora said that some accounts were locked due to the purpose to control resell, but it's actually implementing different rules online and offline. It seems that Sephora is blaming resellers, but the company itself is one of the reasons that contribute to the phenomenon. Some even argue that Sephora is hypocritical, because it wants to utilize huge purchasing power in China, but at the same time, when it's short of supply, Asian accounts are the first to be locked with "justified reasons.[1]"
It's not suggesting that Sephora is guilty. However, the contradictions in the company's rules do make it seem suspicious. Regardless of the fact whether Sephora is discriminating against Asians, the company obviously has a lot of PR work to do if it still wants to stable the Asian market, especially the Chinese market.
The latest update on the issue is that the promotion account which advocates Sephora and has refused to help with the sue, has contacted the management of Weibo, trying to filter some of the tweets that the person who raised the class action publicized. Obviously, this is not the best PR it can do.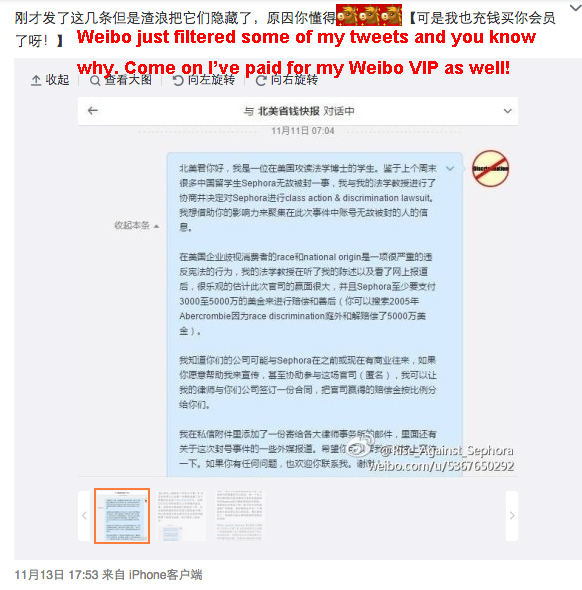 The anti-Sephora Weibo account @Rise_Against_Sephora claimed that Weibo had hidden some of his tweets. In the picture, it is his conversation history with the promotion account which advocates Sephora. Actually, in one of the tweets he publicized last night, he mentioned the exact name of the promotion account – but that tweet can't be found now.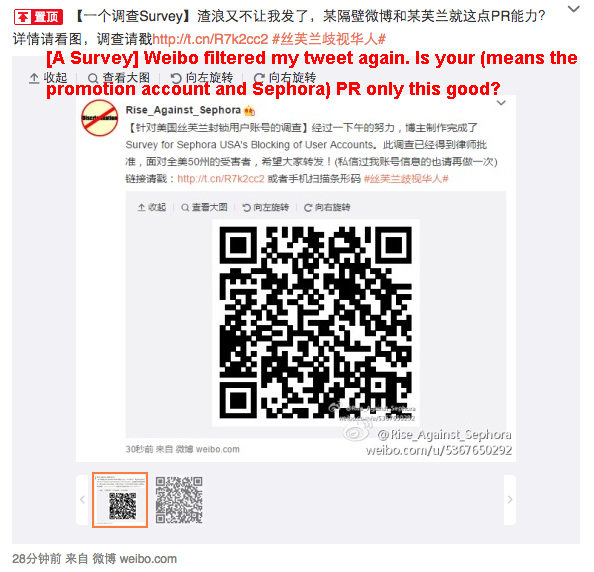 Another tweet just publicized by Rise_Against_Sephora, stating that his tweet was filtered again.
[1] Resource: http://www.douban.com/group/topic/66540865/