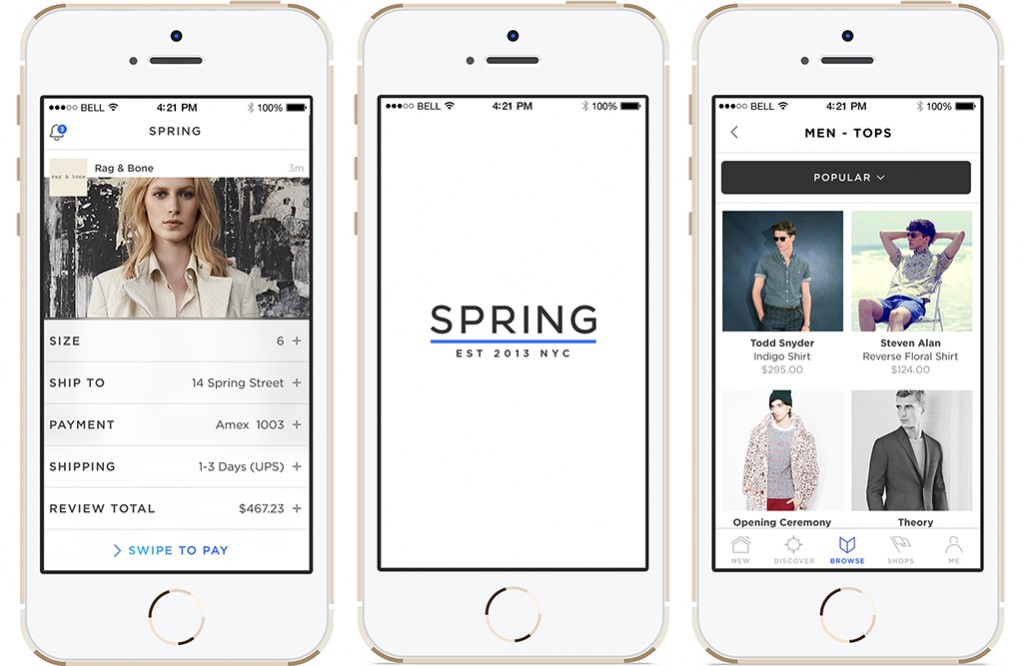 App Spring. The name comes from a shopping destination in New York City's SoHo – "Spring Street." Similar as most of the stores on Spring Street, the app "is meant for the modern high/low shopper, who buys key luxury pieces and mixes them with fast-fashion[1]."
Source: http://www.wtoutiao.com/a/412770.html
In the middle of August, a new mobile shopping app was launched – Spring, and even the media called it "revolutionary[2]." Two months before its debut, Spring has already gained $7.5 million in its series A financing. According to WWD, a website aims at providing news about fashion, beauty and retail industry, investors includes Groupe Arnault, which is under the charge of Bernard Arnault, the president of LVMH Group; Theory's former CEO and renowned fashion investor Andrew Rosen; Coach's former CEO Lew Frankfort; and Rachel Zoe, who is recently a heated spot in the fashion industry.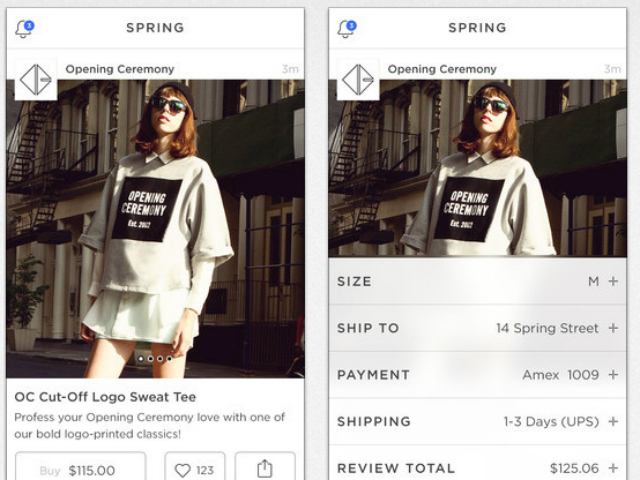 Consumers can make a purchase buy only one click, except for the first time when they'll need to input their credit card information and shipping address.
Source: http://www.wtoutiao.com/a/412770.html
Spring is a mobile shopping app which adopts marketplace pattern and combines photo sharing app Instagram's visual elements, dating app Tinder's compulsive swipe-down design, and Twitter's "favorite" and "follow" functions. Here's how Spring works. Brands release selective products on the app, and they are in charge of pricing and display of products. Consumers can make a purchase buy only one click, except for the first time when they'll need to input their credit card information and shipping address. Spring will collect orders made on the app, and then send back to the order managements systems of each brand to let them process the orders and take care of delivery.
Spring is different because it provides a platform for brands to communicate with consumers directly. There used to be mainly 2 ways for brands to connect with consumers via mobile apps. The first is some popular social networking apps such as Instagram and Pinterest. However, consumers can't buy directly from these apps. In addition, as David Tisch, one of the co-founders of Spring said, it can get awkward when brands come in social media. The second is social networking e-commerce apps, such as DongXi. Usually, at first, the apps will allow consumers to upload and share photos of the products they like. But later, the "buy" function will be introduced. But still, as Tisch mentioned, "the best shopping experience is not user-generated content and brands then jumping in, but how to capture that feeling of walking 5th Avenue or your favorite mall."
That's how Spring is unique. It's a pure e-commerce app which fills the gap between brands and consumers, but at the mean time, it saves their time to download independent apps from retailors or brands. Instead of pushing all their products to users, brands only release products "with souls[3]," which means products that these brands believe can represent and show their image. It leads brands to focusing more on their products, because products are their advertisements on Spring – this is how Spring enables brands to talk to consumers directly.
Traditional e-commerce platforms, such as Zappos, usually act like an agent between brands and consumers. They carry the brands which grant them rights to sell their products, and these platforms need to take care of the whole purchase process from stocking, displaying, to shipping. Thus, the cost of traditional e-commerce platforms includes inventory and shipping expenses, and they mainly profit from sale.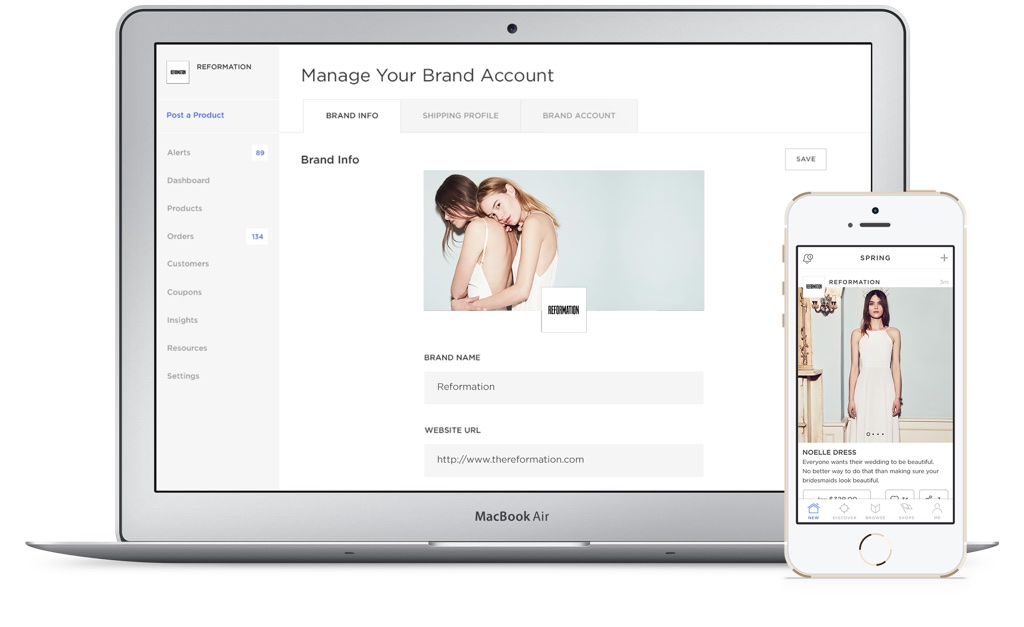 Brands manage their own accounts, and Spring doesn't participate in their selling process – it's only a platform for brands to communicate with their consumers directly.
Source: http://www.wtoutiao.com/a/412770.html
Different from traditional e-commerce platforms, Spring isn't involved in any purchase process except for collecting orders made on the app and sending them back to every brand's independent order management system. In other words, it doesn't have inventory and shipping cost at all – its major expense is the app's operating cost.
Spring profits from commission from every purchase, which according to Tisch, is less than 8%, and even lower when the product is exclusive on Spring. This measure strengthens the reciprocal relationship between brands and the app. On one hand, exclusive products can help Spring attract more users; on the other hand, brands will be more able to speak their "souls."
However, another co-founder, who is also the CEO of Spring, Alan Tisch said that the app is able to gather information about consumers' browsing and purchasing habits. Not only can brands better control their inventory by analyzing the statistics which show the sizes and colors that are the best sellers, but also they can know how to draw consumers' attention by interpreting the data collected by Spring – this is no doubt a tempting asset. However, Alan Tisch didn't mention how much they'll charge for the service.
Spring indeed provides something new to its consumers, but whether it is revolutionary is still, in my opinion, open to discussion. I have to say that, I felt the impulse to make a purchase when using the app, because all the products on it were so selective and the visuals were great. However, if Spring wants to stay in advantage, it has to find out a way to utilize statistics collected from users' browsing habits and purchasing patterns, because this is something only Spring can do but nothing else can. Spring is the only one pure e-commerce app which has perfectly incorporated beneficial features of social media while avoided its shortcoming – in this case, Spring is indeed revolutionary.
[1] http://www.vogue.com/972293/spring-app-changes-mobile-shopping/
[2] http://www.prnewswire.com/news-releases/introducing-spring-a-revolutionary-mobile-shopping-experience-271227781.html
[3] http://www.forbes.com/sites/alexkonrad/2014/08/14/how-david-tischs-new-app-spring-looks-to-crack-mobile-shopping/