It's no surprise that hundreds of millions of people are frustrated with Equifax after one of the largest security breaches. And, let's be honest nobody saw it coming. It's not often that Americans assume all of their social security and credit card data will be hacked into, or that they will lose tons of their money. After all, we actually assume everything will be okay until it isn't okay at all. Hackers found a "vulnerability" in Equifax's site leading it to retrieve our populations most crucial information (The Economist, 2017). Because of this major data breach in one of the top CRA's, it affected all three of the big players, Equifax, Experian and Trans Union. What goes up, must come down.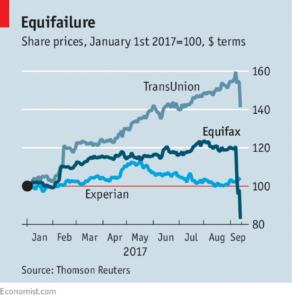 The Economist is calling it an "Equifailure" and we could not agree more. Talk about an incredible fall in share prices, taking about a 15% dip and going from quite stable to extremely negative (The Economist, 2017). Not only are we looking at a huge loss in the market, but a huge risk for millions of Americans. This poses the danger of identity theft and the potential for the government to cover the losses. And to make matters even worse, Equifax employees sold shares of the company when they heard about the breach and didn't even notify the public until weeks later. We don't like the sound of that.
The big question is why are they still allowed to store people's data? In fact, The New York Times agree's that as one of the biggest credit holding agencies they should not be easily hacked but it is extremely "central to the American financial system." Thus, nothing can be done to fix the issue and Equifax will just keep going on as if nothing happened in the future and keep storing data even if we don't know about it. To make matters worse, it is controlled by the Federal Trade Commission and Consumer Financial Protection Bureau and they aren't even choosing to halt business (The New York Times, 2017). The employees that sold their stake each end up 2 million dollars richer, while the losses of millions of Americans, frozen credit accounts, and stolen identities leaves them with nothing but fear and financial burden.
https://www.economist.com/news/finance-and-economics/21728956-financial-industry-worries-about-who-next-big-data-breach-suffered