Patrons of this Los Angeles health food boutique have their choice of a cutting edge selection of foods and supplements, including the likes of calcified seaweed, Chinese herbs and fresh venison. They can even sample an organic cookie while they browse the store.
But if they want to make a purchase, they'll have to beg their owners for their credit card.
My Pet Naturally is one of a growing number of dog boutiques that embraces all-natural wares. In addition to raw food and exotic treats, it sells recycled and hemp products and "a lot of the same supplements that people take," said owner Neil Massa.
Consumers have become more concerned about organic food not only for themselves, but for their pets as well. Sales of organic pet food increased ten times from 2002-2009, according to the Organic Trade Association. And analysts predict the industry will grow even more, at 12 percent a year through 2015, according to Packaged Facts Market Research Company. Organic pet food is more expensive, it can cost as much as 30 percent more than non-organic, but an increasing number of pet owners are willing to pay the higher price. A few factors may contribute to this trend: two high-profile incidents of contaminated commercial food and an overall growth in the pet industry due to more Americans bringing furry friends into their homes.
Massa said he thinks the trend toward organic pet food took off more in urban areas because the residents are more attuned to holistic living.
"If you look at big cities, people are more aware of their food sources and they want the same for their pets. In metropolitan areas, people are more aware of wanting organic than you see in smaller towns," he said. "I know from experience. My in-laws are from a smaller town and they have more of a Wal-Mart mentality."
But even in Los Angeles, Massa finds he must still compete with chain stores, where prices range about five percent cheaper, he said.
"Because I have a smaller store, I buy food by the bag rather than by the truckload, like they do. They can buy more food and get a better deal on it," Massa said. "We might also sell something for the same price, but it will end up being cheaper at a chain store because they offer a coupon."
A pound of raw venison costs $8.00 at My Pet Naturally, while at Wal-Mart; customers can buy a 27.5 lb. bag of venison flavored dry food for $30.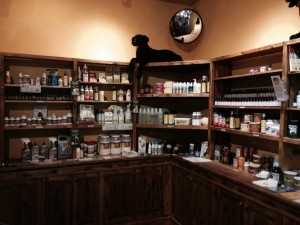 (Supplement shelves at My Pet Naturally)
Massa opened his store in 2006, a year before Menu Foods pet food manufacturer recalled more than 60 million containers of food. Menu Foods, which was based in Ontario, Canada, was the largest dog and cat food maker in North America. Its products were sold under well-known brand names atchain stores such as Petsmart and Wal-Mart.
"I've been making homemade food for my dogs since the 1980s," Massa said. "I saw there was a need for it and not many were doing it. I read an article about how dead animals become dog food around the same time that people became more aware of Mad Cow disease." Massa said the recall bumped business up about 10 percent and helped make up the difference in the lack of customers during the recession.
The toxic food killed about 1,950 cats and 2,200 dogs, according to estimates from the U.S. Attorney's office. The Food and Drug Administration found that the Chinese wheat gluten present in Menu products was tainted with melamine, a substance also used in fertilizer. It is not approved as an ingredient for pet or human food. The products also had a contaminant used as rat poison, and another used to stabilize chlorine in swimming pools. Consequently, the incident scared many pet owners into shelling out for higher-quality fare.
Jacob Gonzalez, the owner of Woof Dog Boutique in Los Angeles, said organic food is "almost the first thing" customers are looking for since the beginning of another epidemic, also in 2007. In this case, thousands of dogs have fallen ill and about 600 died over the course of seven years after eating jerky treats imported from China. The FDA is still investigating the causes. The problems do not seem specific to a certain brand or manufacturer, but according to the FDA, dogs all over the world have been affected. Gonzalez said that ever since, his clientele have made buying American-made food another priority.
Even before the two food episodes, sales of natural and organic pet products had been growing in the U.S. by teen-double-digit rates since 2002, according to Packaged Facts. But in 2007, sales jumped 43 percent. This may result from the contaminations, as well more pet food marketers extending their lines to 'natural' products at this time as well. Sales continued rising to 20 percent in 2008. The increase dipped to six percent during the recession in 2009, but it began climbing up in 2010 and growth went back into the double-digits in 2011.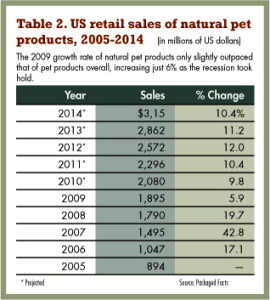 (Packaged Facts)
Some brands market their pet food with labels such as "natural," "premium," or "holistic," and it is typically more expensive. For example, the brand Alpo Come & Get It! Cookout Classics is sold for $0.51 per pound, while Iams Sensitive Naturals Dog Food fetches $2.49 per pound, according to Walmart.com. But the label does not necessarily mean the food is healthier. It is only the "organic," designation that requires manufacturers to meet any standards. For both human and pet food, 95 percent of the ingredients must be organically grown or cultivated without synthetic pesticides or fertilizers in order to meet the qualifications set by the USDA. Some of the brands containing tainted food from Menu included products billed as "natural."
Century City resident Linda Schwartz began buying raw venison from My Pet Naturally upon recommendation from her veterinarian. Her Shih Tzu dog was experiencing stomach issues for about six months, including colitis and irritable bowel syndrome.
"My vet said the preservatives in normal food were making my dog sick," she said. Schwartz is also a fan of the store's treats that Massa's wife makes on-site. "My dog is allergic to chicken, but not the treats because they just have chicken juice." She said that since she started feeding her dog raw meat her dog's stomach issues have improved.
Although raw meat diets have proved beneficial to some pets, they are not recommended for all. The American Veterinary Association discourages feeding pets raw and uncooked meat because of the food-born illnesses it could inflict on both pets and the humans who are in contact with them. A study at the Cummings School of Veterinary Medicine at Tufts found that up to 48 percent of raw commercial food tested contained salmonella. The researchers also found that these diets could contribute to nutritional deficiencies.
But pet owners are treating their pets more like people, which sometimes means projecting their own desires onto their four-legged children. Sixty-two percent of American households own pets, up from 56% in 1988, according to statistics from trade association American Pet Products. And pet owners are spending more on everything, from products such as Halloween costumes to services related to travel and grooming, according to a 2013 report on pet trends from pet insurance company Embrace.
"People treat their pets like family members," Gonzalez said. "Not just the dog we leave outside."